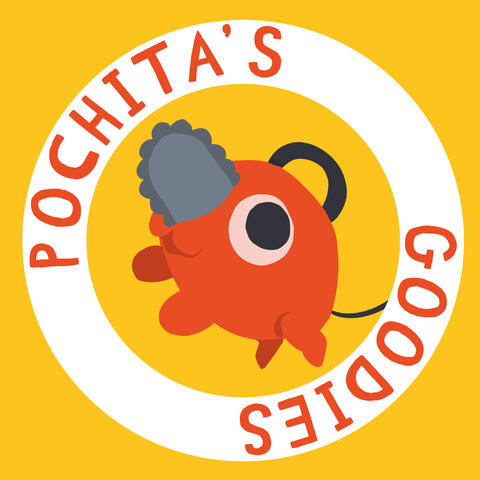 Pochita's Goodies: A CSM Merch Box
Pochita's Goodies is a Pochita themed merch box filled to the brim with Chainsaw Cuteness! Our merch box revolves around Pochita and his canon or AU interactions with the Chainsaw Man cast.Preorders Open!!
Application Guidelines
Applicants will be evaluated on the following:
⭐︎ use of color and lighting
⭐︎ human anatomy
⭐︎ stylistic choices
⭐︎ ability to render and illustrate foods
⭐︎ merch-appropriate styling (This may include having unified cutlines, using merch-appropriate silhouettes, creating appealing designs with strong lines or limited colors, etc.)
⭐︎ strong composition
⭐︎ Sample merch mock-ups and previous experience creating merch is not required but highly encouraged. Please do your best to include samples for the merch items you will express interest for as we will take these into account.What we need:
⭐︎ Please submit a CURATED portfolio containing 5-10 of your best pieces.
⭐︎ The portfolios may be submitted as a publicly accessible link such as Google Drive/ Carrd / Artstation / Behance / etc, must be curated, and free of clutter.
⭐︎ Please ensure that the link is accessible to the mods before submitting your application.
⭐︎ Please note any content/trigger warnings in the portfolios.
HINT: Open your link in an incognito tab or send to a friend before submitting your application!
⭐︎ All samples must be original. Plagiarism and/or theft of other artworks will result in disqualification and ban from future projects.
⭐︎ Pochita samples are highly encouraged but not required.
⭐︎ All Contributors MUST be 18 years or older to apply to this project. Contributors found to be younger than 18 will be removed from the application pool and project immediately.
⭐︎ NO NSFW ALLOWED.
⭐︎ Failure to adhere to guidelines will result in disqualification.
Expectations upon acceptance
Contributors will be expected to do the following:
⭐︎ Illustrate at least 3 merch items upon acceptance. This may consist of physical and digital merch.
⭐︎ Adhere to the schedule presented.
We are happy to give extensions or other accommodations to a reasonable amount. However, failure to notify moderators of delays may result in the contributor's removal from the project.
⭐︎ To design merchandise items where Pochita is the central figure. Other characters may be included as long as Pochita is the main focus.
⭐︎ design at least one digital merch item in addition to their 3 physical merch items. Further details about what this constitutes will be communicated in server.
faq
What is a Merch Box?
A Merch Box is an array of merchandise centered around a specific theme. A merch box may include — but is not limited to — prints, charms, enamel pins, and stickers. This project centers around our favorite Chainsaw devil, Pochita, in both canon and AU settings!Who can contribute?
Anyone 18 years or older at the time of applications is welcome to apply!How many contributors will be accepted?
We aim to onboard around 10 merch artists for the project!**Will this project be physical or digital? **
Wan wan! We are going physical! We will also be having some specialty digital goodies for the best of both worlds!Will this project be for-profit or for-charity?
We are a for-profit project to show our appreciation for our wonderful creators!How will contributors be compensated?
All contributors will be guaranteed all digital items made for the project and the ability to purchase any unlocked physical items at production cost.While we aim to compensate every contributor with a full bundle and shipping, this is dependent on sales during pre-orders!What we do with profits after production and physical compensation will be decided after interest check.What is this project's rating?
This project is rated T by AO3 guidelines. This includes canon-typical levels of violence & gore, non-graphic descriptions of injuries, romantic descriptions without explicit sexual interaction, up to and including light kissing, displays of platonic affection, and cut-to-black implied sexual content.Will ships be allowed?
We welcome Pochita to go on a cruise ship or kayaking! Make sure he wears a safety vest though! Oh did you mean romantic ships? Our merch will not include ships, and any depiction of "characters who are often shipped together" will either be canon or ambiguous. Please keep the merchbox SFW, wholesome and highlighting the goodest boy, Pochita!For applications however, applicants are welcome to apply with any ships in their portfolios/samples.What is the level of gore allowed in this project?
This project will be allowing very minimal levels of violence. This may include implications of harm or injury but does not include explicit violence against humans (or devils)!What are the contributor requirements?
Please see our guidelines!Before submitting an application, please ensure you have checked out our schedule to ensure that you can meet our deadlines.
Schedule
| Date | Event |
| --- | --- |
| Interest Check Open | Jan 5th |
| Interest Check Closed | Feb 10th |
| Contributor Apps Open | Feb 15th |
| Contributor Apps Closed | March 15 |
| Contributor App Results | March 21st |
| Deadline to join server | March 18th |
| Pitches Due | March 25th |
| Pitches Authorized | March 31st |
| Check in 1 | April 30th |
| Check in 2 | May 30th |
| Due Date | June 30th |
| Preorders | July/August* |